All across the island, Tiong Bahru is renowned for its vibrant culinary scene, featuring a medley of traditional cuisines and new trends, and its historical significance as one of the oldest housing estates in Singapore. Certainly, any visitor to this idyllic neighbourhood will find themselves asking the question: how many ways are there to spend your time in Tiong Bahru?
Here, learn more about the different activities available in this charming yet dynamic district, including everything from visitor-friendly guided tours to stopovers at one of its many indie establishments. What makes Tiong Bahru truly unique? You might just find an answer in these six sights and sounds.
Take a Guided Tour of the Area…
Newcomers to this iconic neighbourhood will be best served by this exciting excursion, which takes followers on a journey all around Tiong Bahru's most famous landmarks and more. Led by experienced volunteer guides, many of whom have lived in the area themselves, you'll enjoy a rare opportunity to learn about the rich heritage, architecture, infrastructure and culture of Singapore's only conservation housing estate—straight from the horse's mouth.
Highlights include a visit to the historic Tiong Bahru Air Raid Shelter on Guan Chuan Street, known for being Singapore's last remaining civilian air raid shelter built before World War II. Having found new purpose in recent years as a storage facility, it was previously used during the air raids by Japanese forces in 1941 and by Allied forces in 1945. You can also look forward to stories about Tiong Bahru's distinguished Hokkien community leaders, including philanthropist Tan Tock Seng (the namesake of one of Singapore's largest hospitals) and his grandson, rubber planter Tan Chay Yan (for whom the eponymous street is named).
The walks (officially called My Tiong Bahru Heritage Tour) are conducted by civic group My Community and usually take place on the first weekend of every month. Each walk lasts approximately 2 hours, and attendees are encouraged to bring sunscreen and a bottle of water to fend off the infamous Singapore heat. Best of all, it's free!
…Or Simply Go It Alone
For those less inclined towards travelling in groups or following a set itinerary, there are many ways to go where the wind takes you. The maze of Tiong Bahru allows for countless distinct routes to take throughout the district, covering all its key bases with a little more freedom and unpredictability.
Still, if you'd still like a rough idea of where to head, the Tiong Bahru Heritage Trail (established in 2013) is a great introduction to the landmarks most worth visiting. It consists of ten stops scattered all over the estate, each with a handy little map and an informative writeup about the area and its iconic sites. Even better, you can hit the stops in any order, picking up little snippets of history as you wander the estate.
The trail measures about 2.5km and can be travelled in an hour or two.
Take a Stroll In the Seng Poh Garden
In a concrete jungle like Singapore, even with its reputation as a "garden city", it can be difficult for many of us to reconnect with nature as often as we would like. Fortunately, Seng Poh Garden offers an opportunity to do just that. Named after Teochew merchant Tan Seng Poh, and formerly an open green space for residents to assemble, its position in the heart of Tiong Bahru Estate makes this a can't-miss stop on your journey.
If you do find yourself wandering its cobblestone paths, take a moment to stop and admire its main attraction, the famous "Dancing Girl" sculpture. Commissioned by former Member of Parliament for Tiong Bahru Ch'ng Jit Koon in 1972, it was created by Malaysian-born sculptor Lim Nang Seng, best known for being the artist behind the iconic Merlion at the Esplanade. Despite its name, the 1.2m structure is abstract in form and can be interpreted any number of ways—for such is the nature of art.
Seng Poh Garden is located at the junction of Lim Liak Street and Seng Poh Road, a short walk from the nearby Tiong Bahru Market.
Get Your Literary Fix
Besides being a haven for hardcore foodies, Tiong Bahru is also home to Singapore's most famous indie bookstore, BooksActually, and its neighbour a few doors down, children's literature retailer Woods in the Books. Both feature a cosy, welcoming atmosphere in which to browse the array of titles on offer (as well as a brief respite from the unrelenting Singapore weather).
BooksActually is particularly renowned for its unparalleled selection of local literature (affectionately termed "Singlit"). Its only branch in Tiong Bahru hawks volumes by an ever-expanding roster of authors, including well-established poets like Cyril Wong and Joshua Ip. Peruse an extensive catalogue featuring titles from its publishing imprint, Math Paper Press. Woods in the Books, on the other hand, boasts an incredible variety of picture books, chapter books and all manner of stories for children. It also hosts occasional events open to both parents and children at its flagship store.
Both stores are located in the quaint neighbourhood of Yong Siak Street (next to Plain Vanilla Bakery), and are open from 10.00am every day till evening.
Find Some New Tunes
Established in 2014, vinyl store Curated Records is one of the latest additions to Tiong Bahru's growing list of reasons to visit. While a number of record stores have been holding out all across the island, this one specialises in indie vinyls in a variety of genres, from classic rock to 80s house. The store's impressive stock of over 1000 records also includes Top 40 pop and a couple of rare first pressings. With such a wide range of records on offer, you can be sure that there's something here for everyone.
Curated Records is situated on the busy Tiong Bahru Road, a stone's throw from the Sin Hoi Sai Seafood Restaurant. It is open every day except Monday from 1.00pm–8.00pm.
Introduce Some Culture Into Your Life
Given Tiong Bahru's status as one of Singapore's most historic districts, it is difficult to imagine how much more one could learn beyond its rich heritage. But ArtBlue Studio, sitting in the heart of its main residential area, challenges that perception with its extensive collection of contemporary Vietnamese art—a strange thing to find in Singapore's oldest public housing estate, but a welcome surprise all the same.
Here, you can walk the sleek white walls of the gallery in peace while taking in the colourful creations hung in every corner, displayed in a range of different art styles. The venue hosts exhibitions featuring work by both Vietnamese and local artists, and also provides private consultations and viewings.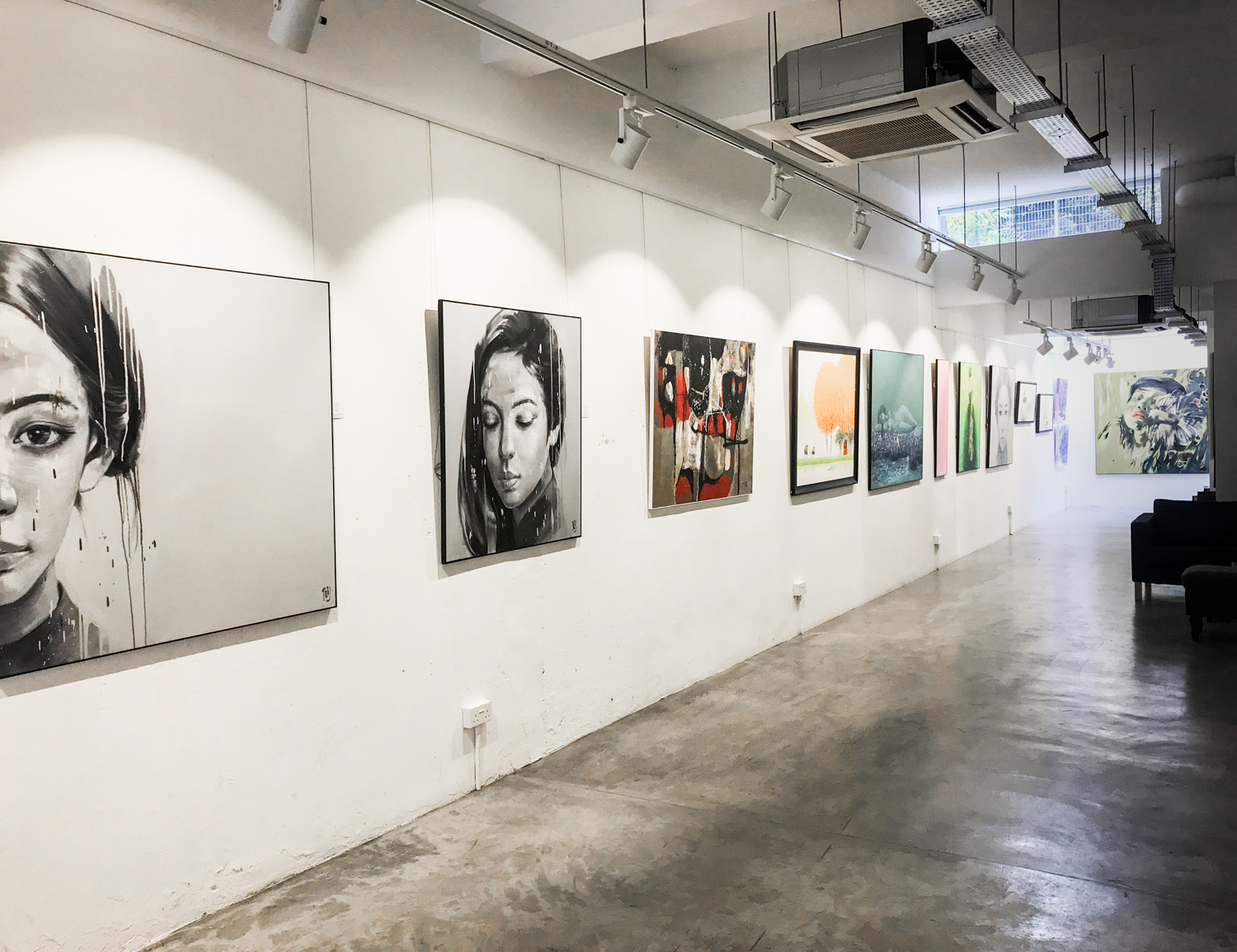 The studio can be found at 23 Yong Siak Street, and is open on Wednesdays to Sundays from 10.00am–7.00pm.