Author: Dipankar Shukla
Date: 27 January 2021
Want to thank Cupid? Well thank us instead!
From being featured in' Crazy Rich Asians' to being tagged as one of 'Hippiest Part of the Town' (Source: Visit Singapore), Tiong Bahru has earned its name among the best with its age-old charm and having the best places to shop and hang out.
Here are the top reasons why we think your date would love Tiong Bahru.
Enjoy the Free Art Gallery
One of the most unique features is the free art gallery that exists on the walls of Tiong Bharu. Dating back to the 20th century, these murals provide an interesting charm and give the whole ambience an artistic touch different than any other locality of Singapore.
Image Sources: Yip Yew Chong, Ernest Goh
You can literally spend hours with your date doing 'Mural Hunting' across Seng Poh Road and Eng Watt Street among many others and get lost in the intricate details of these carefully preserved masterpieces.
For more on this, check out Tiong Bahru's Free Art Gallery.
Get Lost in the Architecture
For all of you who crave for aesthetics and want the perfect backdrop for your Instagram posts with your date? Don't worry. We got this.
Tiong Bahru offers one of the most aesthetically pleasing architecture in all of Singapore. The architecture has that 1930's vibe inspired by both English and local architectural style. The entire area boasts art-deco-style architectural structures that gives a charm unique to its own.
Image Source: Pinterest
The alleyways are what we think the hidden gems of the locality. These narrow and quiet streets are a complete contrast to the bustling streets of the main city. Hence when you're the next time around with your date make sure you click an Instagram worthy photo. Please, for God's Sake!
Image Source: Merci Marcel
For more on this, check out Architecture of Tiong Bahru
You had me at "Coffee" …
Amidst the mural hunting and clicking aesthetic photos you might crave a cuppa and some pastries. Well, Tiong Bahru has some of the finest shops for that. It's a heaven for couples with a sweet tooth. Cherish yourself to the fresh aroma of the coffee beans and freshly baked breads and savour the taste with a meaningful and fun conversation with your partner. Make sure to visit the Plain Vanilla Bakery to try out the Lemon Meringue and Tiong Bahru Bakery for its heavenly croissants.
Image Sources: Plain Vanilla Bakery & Tiong Bahru Bakery
Win them with Music
Image Source: Spinster Records
Not just Summer from 500 Days of Summer, but almost everyone loves music and talking about it. Impress your date with your excellent music taste and have a great conversation talking about theirs as well. Tiong Bahru has just the right place for you. Curated Records is an independent record shop having a carefully curated selection of rock, blues and jazz to get you hooked. A visit to this musical bliss is worth it!
Some Gifts to Remember
If you wish to buy something memorable, Tiong Bahru has all the right places for you. Visit Cat Socrates to shop for some of the fantastic memorabilia and support the local artists and craftsmen. For those who love fashion, Nana & Birds is the ideal place which houses some best indie and international works. For those loving plants and everything green, check out Tumbleweed and become the ideal 'plant parents.' ?
Image Source: Tumbleweed Plants
For the Love of Food
End the day with one of the most memorable food ever. If you both crave for some alcohol, head over to Coq & Balls (Yeah, we know :3).
Tiong Bahru has all kinds of eateries for almost everyone. If you're in a mood for a quick bite and want to be a little more adventurous, Tiong Bahru has a selection with some of the best hawker centers. Special mention goes to Yi Sheng Fried Hokkien Prawn Mee and Hainanese Boneless Chicken Rice where you'll be able to get a Michelin star rated food for under $10USD!
Image Sources: Daniel Food Diary & Miss Tam Chiak
For couples looking for a fine dine, visit Ikyu for an authentic Japanese cuisine experience. Head over to Merci Marcel and savour the French delicacies especially the ravioli. Bakalaki is another one in the block offering lip-smacking Greek delicacies to relish and enjoy.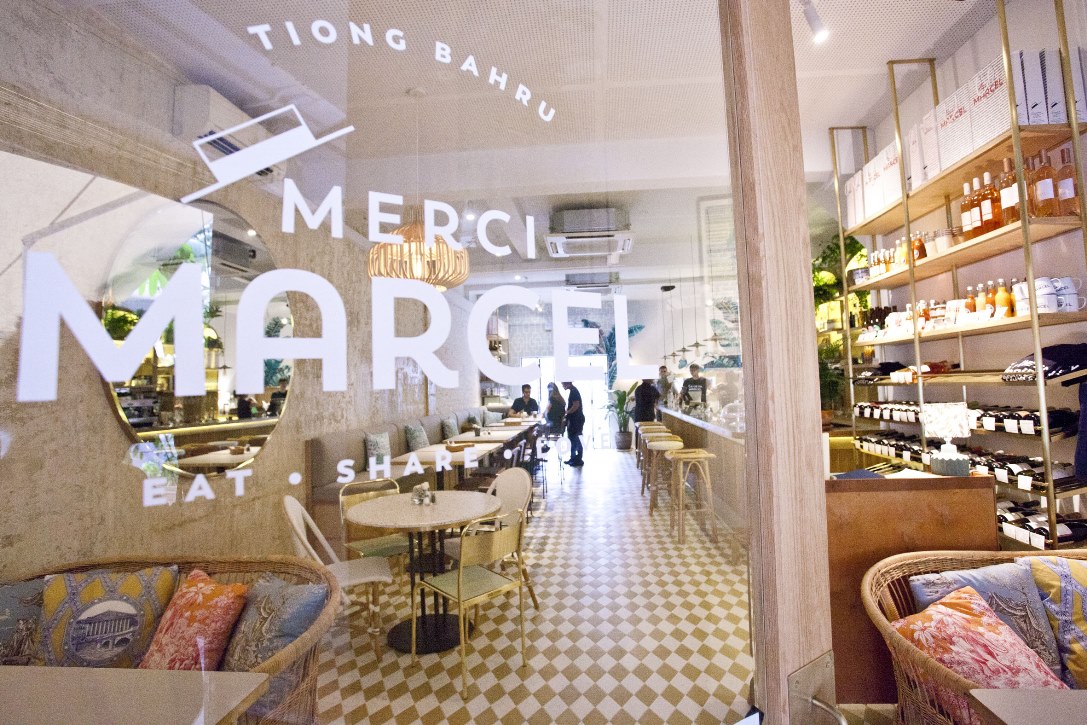 Image Source: So Chic
For more on this, check out 10 Must Visit Restaurants Tiong Bahru
Found this piece interesting? If yes, then head on to Visit Tiong Bahru to find out more fascinating things about the place and support the website.