By- Ishita Dang
A short history
In the mid-2000s, Tiong Bahru, a housing estate located within the Bukit Merah which is also a central region of Singapore has undergone massive upscaling and has become synonyms to trendy cafes and bakeries. To read on the history of Tiong Bahru, tap here! History in one minute
A mix of Old and NEW
Yes! You heard it right. You can get your Instagram-worthy pictures here! The fascinating mix of classic and contemporary synchronize in absolute harmony. Tiong Bahru is a combination of two words, the former word means "in the end or to die" and the latter word means "new", therefore the locals refer to the new cemetery as compared to the old cemetery. To experience something different, a blend of old and new take a trip down to Tiong Bahru where establishments have managed to inoculate fresh vibes but by preserving the former glory.
In this article, I'm putting down some of the local's favorites which you must visit to make your trip worth it!
Top 6 must-visit places in Tiong Bahru
1 Plain Vanilla
Image courtesy– Plain Vanilla/ Instagram
I remember those cakes that my grandmother used to make when she was alive. Plain Vanilla is borne out of the sincere dedication towards bringing out your childhood-implicative flavors. The cupcake craze is well-gone but big players like this have a strong foothold in the market with their quality assurance. The familiarity with grandma's culinary best and the time-honored recipes have perfected over the years, which have made this place one of the must-visits for the locals.
#Visit at- Plain Vanilla, 1D Yong Siak Street, Singapore, 168641
2. Merci Marcel-
Image courtesy– Mercimarcel/ Instagram
Whether it's brunch with friends or a date night with your loved one, you shouldn't think twice before visiting this restaurant. Except for the yummilicious food, the pastel interiors, and the greenery, there is another attraction for the visitors. French Riveria, is the inspiration for their vivid theme and mosaic-tiled flooring. Your pictures will also beautify from the splashes of artworks on the walls!
#Visit at- Merci Marcel, 01-68, 56 Eng Hoon Street, Tiong Bahru, Singapore 160056
3. Air Raid Shelter- a time capsule of Singapore's past–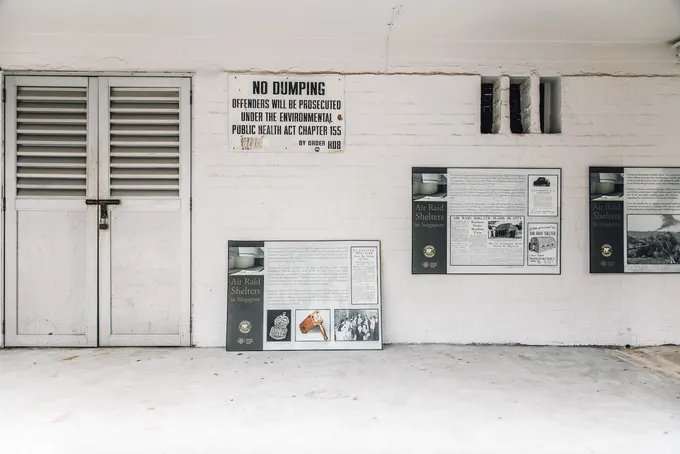 Image Courtesy– https://www.klook.com/blog/tiong-bahru-singapore/
Do you remember? The air raids by Japanese forces during World War II bombings. These shelters were built in the 1930s to provide a roof to the residents and kept untouched till 2018. In 2018, with the help of 8 local artists, this place was transformed into a gallery that showcases portentous themes of war and destruction. It properly encapsulates Singapore's dark and troubled phase, which you might want to learn.
If you want to visit this place, kindly remind yourself to grant permission from The Tanjong Pagar Town Council.
If this place Grabs your attention. Read more!
#Visit at- BLK 78, Guan Chaun Street
4. Curated Records-
Image courtesy– Curated Records/ Instagram
Music enthusiasts! Here's your go-to place. Foodies have enough places to go in Tiong Bahru but there are no worries for music lovers. They provide you with both- old school and the latest hits. Moreover, they also offer you locally produced work that is not accessible from anywhere else.
#Visit at 55 Tiong Bahru Road, Singapore, 1600555.
5. Bin Cho
Image courtesy– Honeycombers
It is located right at the back of Hua Bee Coffee shop and is nicely concealed within the premises. Hokkaido Tofu- a tofu dish which resembles the shape of Hokkaido island, is one of their famous dishes which you can compliment with cocktails- Yukishibori Sake, Cinnamon and Rasberry Cocktail.
To place an order or delivery click here.
#Visit at- 01-19,78 Mok Guan Terrace, 162078
To know more about Bincho at Hua Bee tap on this link. BinchoatHuaBee.
6. Books Actually
Image courtesy– https://www.herenow.city/en/singapore/venue/books-actually/
If you are a keen reader, get yourself overwhelmed with the books written by the widest range of local authors on Singapore's culture. Don't worry if you get confused about which book to choose. Outside there is a vending machine for you from which you can read a short description of the books available in the store.
This time you may judge the book by its cover!
You can also check their new arrivals at BooksActuallyShop.
#Visit at- 9 Yong Siak St., 168645